Language Instruction for Newcomers to Canada (LINC) Program Schedule
Free English classes at the Fort St. John Literacy Society.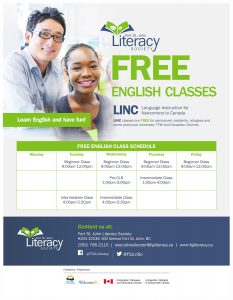 Community Adult Literacy Program (CALP) Schedule
One-on-one tutoring for adults at the place of your choice.
Tutoring is usually 1-3 hours a week.
You can meet at the time that suits you and your tutor.
Tutoring provided for: reading, writing, math, ESL
ESL Conversation Circle
Informal chat for anyone who needs to improve their English skills.
Every second Monday of the month 1-3 pm, held at FSJ Public Library.