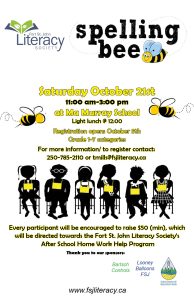 The Fort St John Literacy Society is once again busy planning the 4th annual Spelling Bee. Due to low enrollment in May this event was cancelled – so we are going to try again! We will require a minimum of 6 kids per category to move ahead with this event.
This year we are going to continue with the fundraising component, by encouraging each participant raise a minimum of $50 to participate. All of the proceeds will be directed towards enhancing and expanding our After School Homework Help Program.
The Spelling Bee will be held on Saturday October 21, 2023 at Margaret "Ma" Murray Community School, with a light lunch at 12:00.
Registration opens October 5th
For more information or to register, please email tmills@fsjliteracy.ca or call 250-785-2110
We are also still looking for a couple more sponsors for this event, if this is something you are interested in, please see the Sponsorship Request Letter
The Fort St John Literacy Society is dedicated to delivering diverse community programming that promotes literacy and provides learning opportunities in a supportive setting.
We accomplish this by: promoting access to literacy programs, assisting in the development of community literacy activities, promoting public awareness of literacy issues and developing partnerships with local regional and governmental organizations. Literacy programs have a significant impact, bettering the economic, social and civic life of our community