Language Instruction for Newcomers to Canada (LINC) Program Schedule
Free English classes at the Fort St. John Literacy Society. All Beginner & Intermediate classes are being offered virtually, PRE-CLB is in person.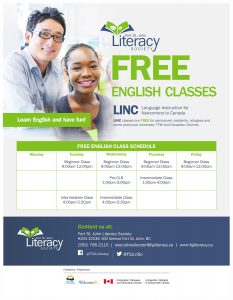 Community Adult Literacy Program (CALP) Schedule
One-on-one tutoring for adults at the place of your choice.
Tutoring is usually 1-3 hours a week.
You can meet at the time that suits you and your tutor.
Tutoring provided for: reading, writing, math, ESL
ESL Conversation Circle
Informal chat for anyone who needs to improve their English skills.
Every second Friday of the month 1-3 pm, virtually on Zoom
Women's Conversation Circle
Make connections, share stories, practice English, learn about Canada, crafts, enjoy the outdoors and make new friends!
Every Monday 7:00-8:30 pm @ the FSJ Literacy Society office or out in the community.  Please contact Christine at slsw@fsjliteracy.ca for more details