We are excited to announce the establishment of the Fort St. John Literacy Society's 1st Annual 5km Retro Run!!
Run, walk, jive or do the hustle dressed in attire from your favourite decade.
Proceeds from this event will go towards our fundraising goal of $8,000 to expand our FREE programs offered to the community.
Only 400 spots available. Registration will open March 21st.
To register please visit:  http://energetictickets.ca/event/fort-st-john-literacy-society-5k-retro-run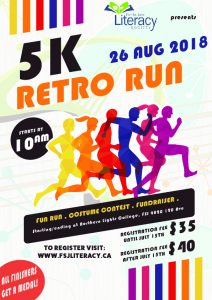 The Fort St. John Literacy Society was founded in 1990 and has since been dedicated to promoting a client centered vision of literacy to our community through the delivery of programs and lifelong learning opportunities. Literacy programs have a significant impact bettering the economic, social and civil life of our community.