We will be partnering with SUCCESS and SWIS to give an introduction and update on services available locally.
Join our conversation to see what services changes have been made due to the Covid-19 pandemic. We would love to see you all virtually on Zoom!
Taking place February 3rd from 6:00-8:00pm.  To register please email janis.naul@success.bc.ca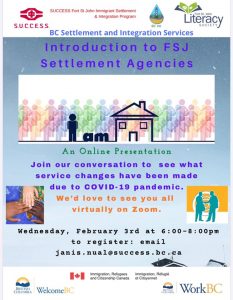 Join us for a FREE Zoom meeting:
Bonnie Isenberg, By-Law Supervisor with the City of Fort St. John will be joining us to speak about:
– What is a By-law and how it affects your life.
– Fort St. John regulations on noise, animals, garbage, parking, and many others.
– There will be a Q&A session and interactive games to win prizes!
To register please email teacher@fsjliteracy.ca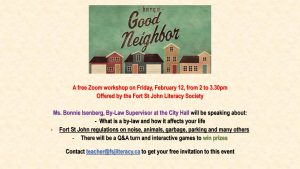 What is family literacy?
Family literacy is the way that parents, children and extended family members use literacy at home and in the community. It occurs naturally during the routines of daily life and helps children and adults get things done.
This year's theme is "Let's Be Active! Move*Play*Learn"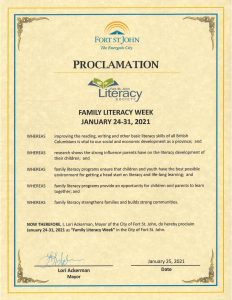 This year things will be a little different as we cannot come together as groups. However there are still some super fun activities taking place!
Fort St. John Literacy Society will be hosting a book scavenger hunt all week long on their Facebook page
The Fort St. John Public Library has partnered with Backcountry to put together a Family Literacy Camp-In January 29-31st.
The City of Fort St. John Recreation department have set up a story book walk through Matthew's Park as well as a Frostival Week to encourage families to get out and be active.
Story Time From Space will be hosted on January 26th and can be found at storytimefromspace.com/live
Decoda Literacy Solutions is hosting their annual Family Literacy Week Photo contest. Take a photo using the "Let's Be Active" theme and submit to contest@decoda.ca or post on your social media using hashtags #LetsBeActive #FLW2021