The Fort St. John Literacy is seeking dynamic and energetic part time Settlement Language Support Worker.  The successful candidate will be facilitating a weekly conversation circle to strengthen English skills, with a focus on community connections and life in Canada; assessing the needs of immigrants who are studying English as a second language; responsible for lesson plan creation and development of learner-based curriculum; assisting learners with onboarding to virtual service delivery; and all necessary reporting of the above tasks.
Position requirements:
TESOL (Teaching English to Speakers of Other Languages) Certificate preferred or experience in teaching English as a Second Language
Two years in a teaching environment, preferably with adults
Certificate in Canadian Language Benchmark levels would be an asset
PBLA (Portfolio Based Language Assessment) experience would be an asset
Organizational and time management skills
Excellent interpersonal skills
Great oral and written communication
Self motivation and excellent team work skills
Ability to work independently and be flexible
Terms of employment:
12 hours a week
Competitive wages.
How to apply: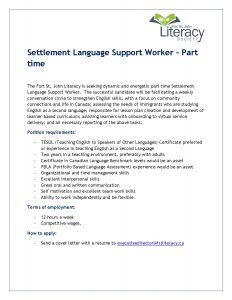 Date: Tuesday December 7, 2020
Time: 6.00 pm
Where: Zoom meeting
What: Annual general meeting, presentation of financials, election of directors of the Board, membership only.
 R.S.V.P.: Please email Jessica Kalman at executivedirector@fsjliteracy.ca