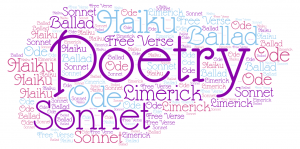 In celebration of Poetry Month, we are looking to end the month off with a poetry contest! Participants are encouraged to let their creativity flow and send in their art piece.
-Participants may only submit one poem entry;
-The entry must be an original poem created by the participant;
-No offensive, harmful, or demeaning language, imagery, or content will be accepted;
-Poetry can be written in any poetic style;
-The entry must not be plagiarized.
-The entry must not include copyrighted material or trademarks.
The contest period runs from 9:00 a.m. Mountain Time on April 25, 2022, to 11:59 p.m. Mountain Time on April 30, 2022.
Poems will be entered into a generator that will randomly select a winner. Poetry is an art form that is difficult to judge as it is an expression of the individual.
Poems can be submitted by posting on this post or by emailing to tmills@fsjliteracy.ca.