Spelling Bee Raises $4,397!
August 20, 2019
Contestants young and old took to the stage at Margaret 'Ma' Murray Community School on April 13 for the Fort St. John Literacy Society's second annual Spelling Bee.
The event raised $4,397 to support the society's after school homework club. The top fundraiser was Cooper Haggstrom, who raised $740.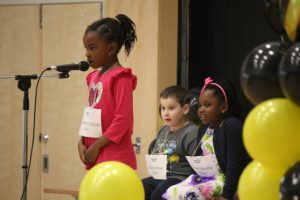 Pemi Olajide won first place in the Grade 1 Category of the 2019 Spelling Bee,
Results:
Grade 1:
1st place: Pemi Olajide
2nd place: Dunsin Ogundipe
 Grade 2/3:
1st place: Lucy Toews
2nd place: Arene Saukila
Grade 4/5:
1st place: Archer Giesbrecht
2nd place: Lily Murray
Grade 6/7:
1st place: Curtis Paull
2nd place: Austin Baerg
Media Challenge:
Dillon Giancola of the Alaska Highway News won first place with the most points earned in 15 minutes. Managing Editor Matt Preprost finished second in the category.